Fighting Traumatic Brain Injury, Post Traumatic Stress & Suicide.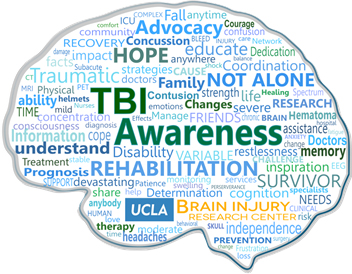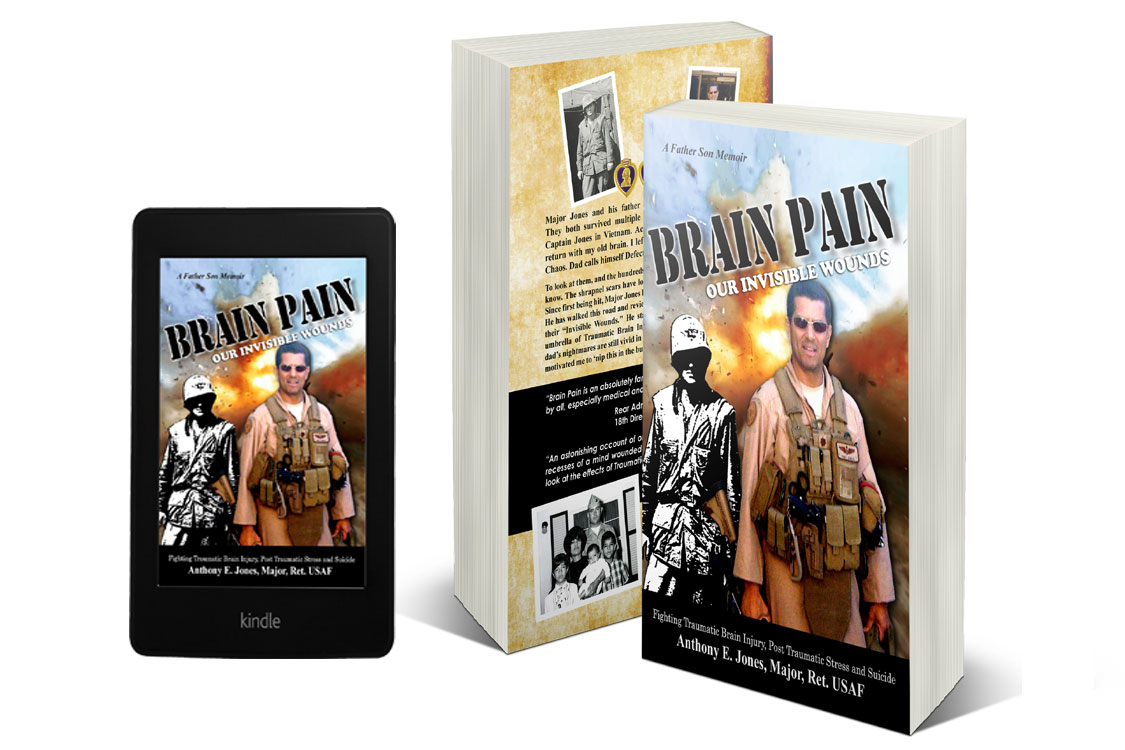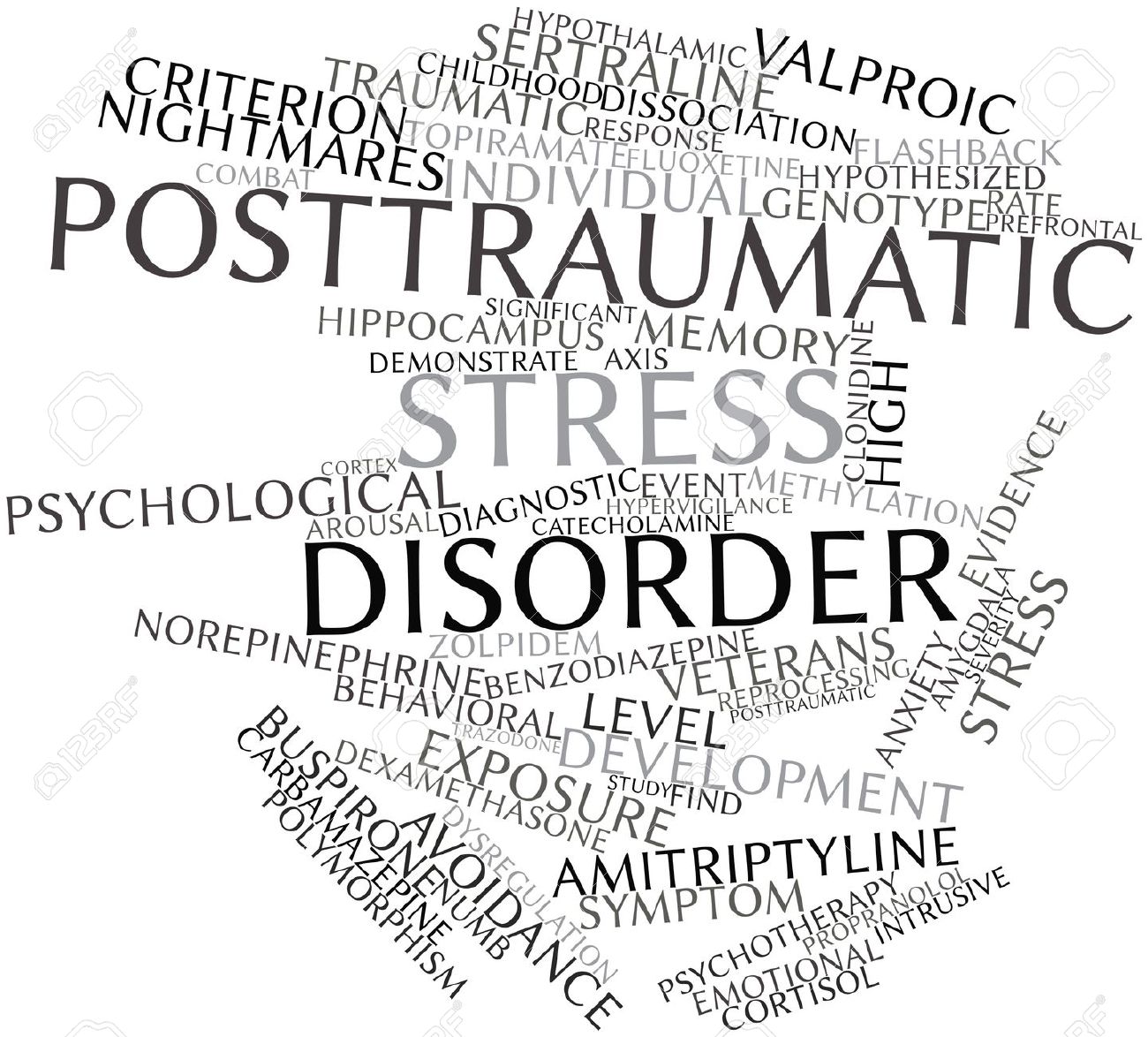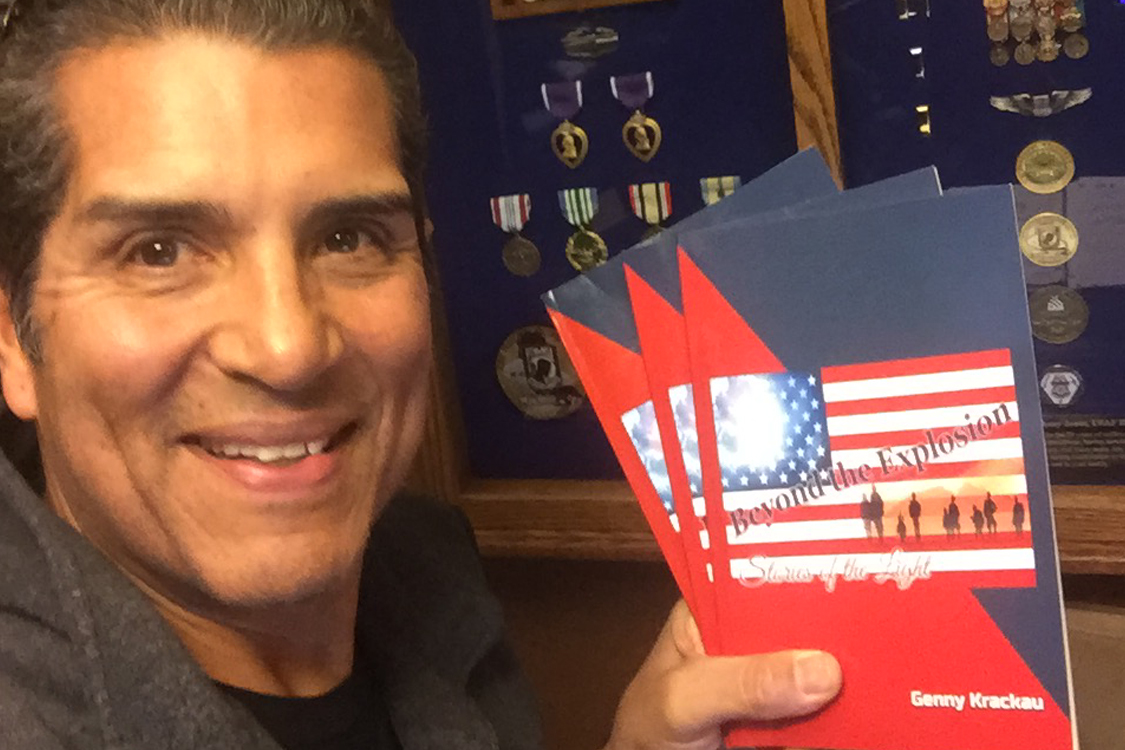 As I survived my second combat explosion, I had what may be called a Spiritually Transformative Experiences (STE). What I believe was my Guardian Angel, shielded me from the hundreds of pieces of shrapnel headed my way, only a handful hitting their mark. My life was spared and I was shown the love and majesty of God. I came away from this with so much information, but everything boiled down to "It's all about Love." This message is more important than ever, in our current divisive society.
Genny Krackau's book "Beyond The Explosion" not only details my story but several other veterans who've had combat Near Death Experiences. It was reassuring to read the stories of other veterans, with so many similarities. Highly recommended!   You can order it on Amazon or through her website.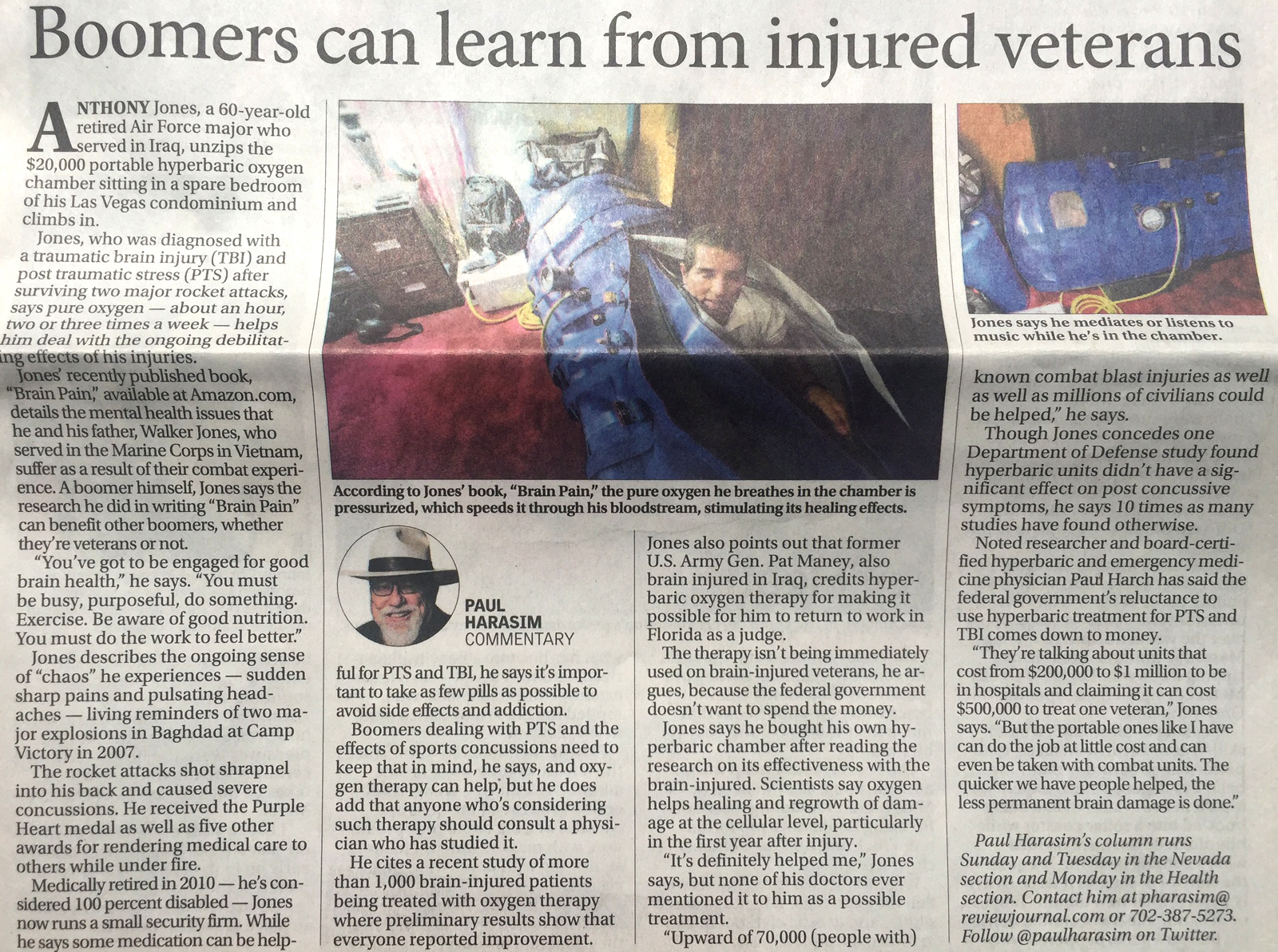 Anthony Jones, a 60-year-old retired Air Force major who served in Iraq, unzips the $20,000 portable Hyperbaric Oxygen (HBOT) chamber sitting in a spare bedroom of his Las Vegas condominium and climbs in.  Jones' recently published book, "Brain Pain," available at Amazon.com, details the mental health issues that he and his father, Walker Jones, who served in the Marine Corps in Vietnam, suffer as a result of their combat experience. 
Jones, who was diagnosed with a traumatic brain injury (TBI) and post traumatic stress (PTS) after surviving two major rocket attacks, says pure oxygen — about an hour, two or three times a week — helps him deal with the ongoing debilitating effects of his injuries.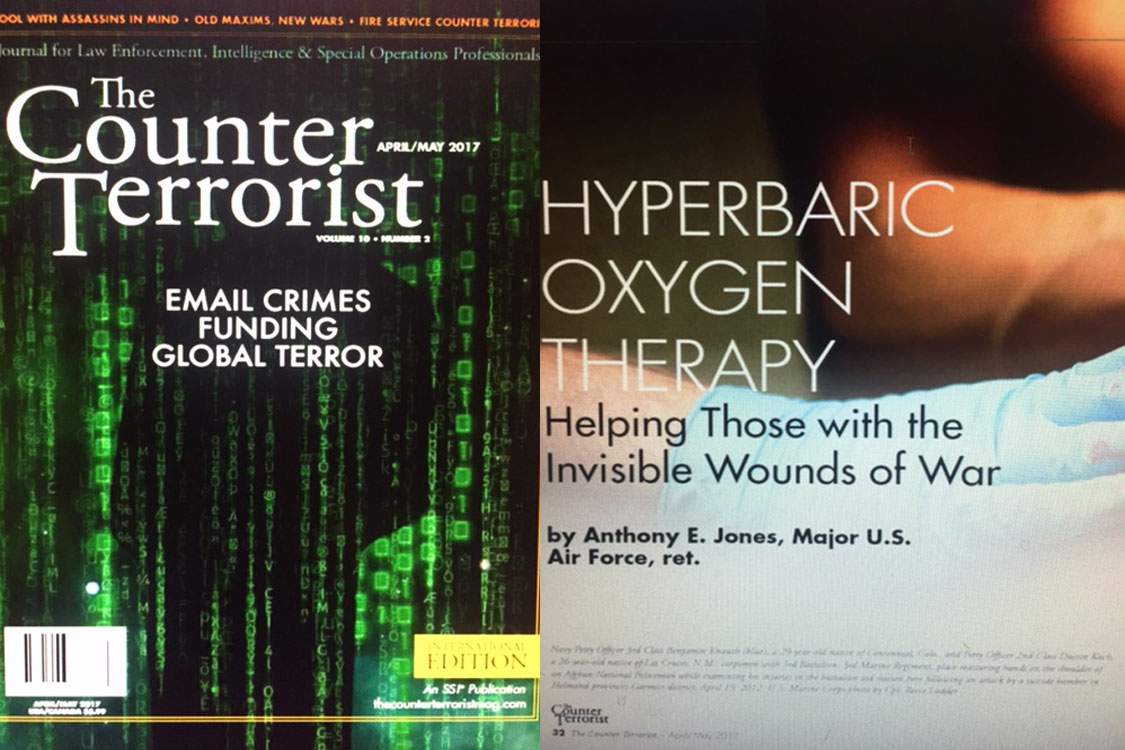 Major Jones has published an article in the April / May 2017 Counter Terrorist Magazine entitled HYPERBARIC OXYGEN THERAPY - Helping those with the "Invisible Wounds of War." In the spring of 2010, one of my students in our Tactical Driving course told me about Hyperbaric Oxygen Therapy or HBOT, for war veterans with TBI.  He had noticed my headaches and I had told him that I had been blown up in Iraq, resulting in multiple concussions. He also told me about two US Air Force Airman injured by a roadside IED blast in Iraq, who had been helped by HBOT. (read the article in the PDF above)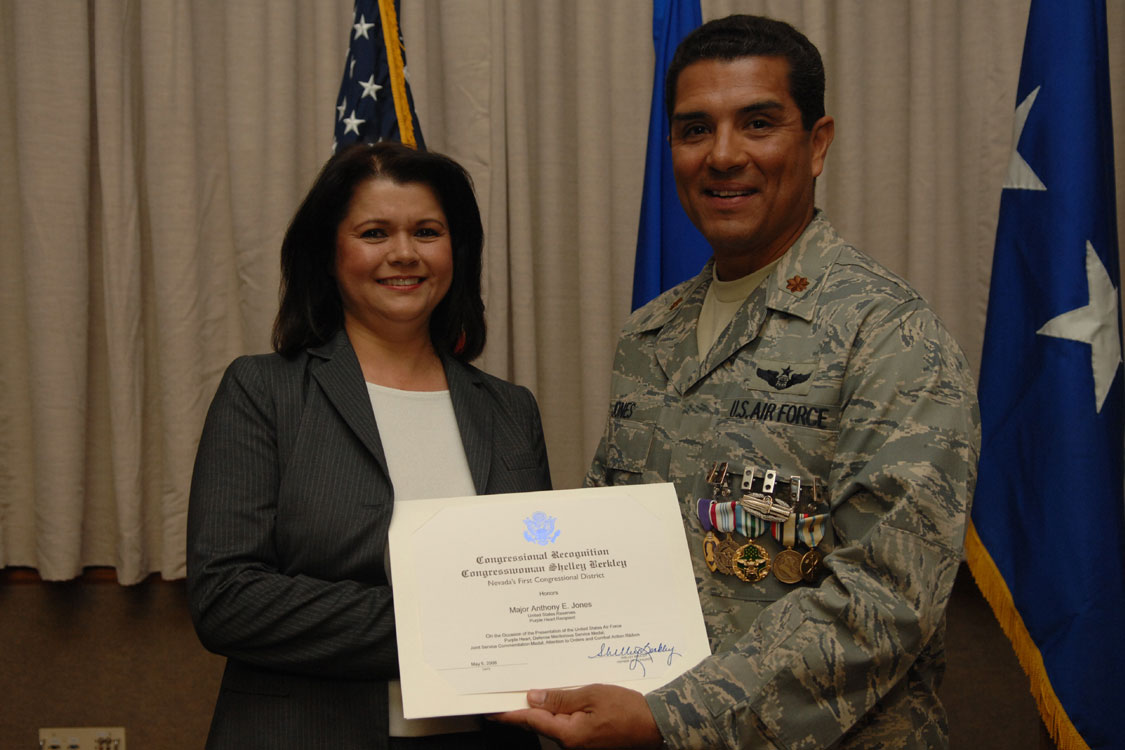 June 2, 2008. The Readiness Management Group "CHRONICLE" newsletter. A 99th Air Base Wing Chief of Exercise Plans and Programs at Nellis Air Force Base, Nev. Received a Purple Heart and Five other medals and badges at a ceremony on May 5th. Maj. Anthony Jones was recognized for his distinguished service in Operation Iraqi Freedom, where he survived three rocket attacks, suffered two concussions and contributed to saving 90 people's lives. Lt. General John Bradley, Air Force Reserve Commander, presented Major Jones with the awards.  "We're here to honor you and thank you for your service." General Bradley told Major Jones.  (read the PDF article above)
PRESS RELEASE
Retired Major Anthony Jones Opens Up About His Battle Against Traumatic Brain Injury And Post Traumatic Stress Disorder In His Book "BRAIN PAIN."
LAS VEGAS, U.S.A. - "BRAIN PAIN" - Fighting Traumatic Brain Injury and Post Traumatic Stress: A father-son memoir, has hit the bookshelves. The Author, Major Jones survived multiple explosions in Iraq and has written a book to share his lessons and bring continued awareness of Traumatic Brain Injury (TBI) and Post Traumatic Stress (PTS) and what he calls the next "Concussion Crisis." Major Jones has a unique perspective on this, as his father, a Marine, survived four explosions during the siege of Khe Sanh, in Vietnam.
Major Jones began this project as a cathartic journey and to share his lessons from years of fighting his "Brain Pain." That's how he's described the headaches and anxiety to his doctors since first being hit. That pain was the seed that grew into "Chaos," overtaking and almost ending his life. This memoir isn't a combat story; it's a "back here" story.
He calls his nemesis "Chaos;" the sum of TBI and PTS, i.e. headaches, anxiety, lethargy, irritability, memory loss, depression, which leads to bad choices, which leads to alcohol and drug abuse, then to bad financial decisions, personal destitution, dissolution of family and friends, which can finally lead to ones perceived last choice, suicide. "Chaos" assaults these weakening links in our mental health "Chain," or a damaged brain. The author's story relates how he "Does The Work" to strengthen the links in his "Chain." Since being hit in 2007, Major Jones has navigated these challenges and shares insights and lessons of what has been called the signature "Invisible Wounds" of these wars.
Major Jones; "My shrapnel wounds have long healed and to look at me, I look normal. I discovered it was impossible for my family, friends and advocates to understand. I wrote this for all to understand the damaged mind of combat concussed veterans." There are over 300,000 combat veterans who have traumatic brain injuries, over 75,000 of those are blast induced, and even more with diagnosed post-traumatic stress. The next concussion crisis will come from the aging Vietnam veterans who were not diagnosed but forgotten, and the Iraq / Afghanistan combat blast-induced veterans. It's already catching up with us. There are currently 5.3 million Americans living with TBI.
"Brain Pain" reviews dozens of topics such as Equine Therapy, Service dogs, Music Therapy, Exercise and the Outdoors, Wounded Warrior Programs, Brain Games, Acupuncture, Medical Marijuana, Meditation, Hyperbaric Oxygen Therapy, Neurological Botox, Medication and Drug Abuse, Suicide, Faith and his own personal Near Death Experience from beyond. It is available on Amazon Books and Kindle.  Major Jones is the single author and is available for interviews and discussion.
CONTACT:
Site: www.coregroupsecurity.com    Phone: 702.900.2673    Email: cor5221@gmail.com